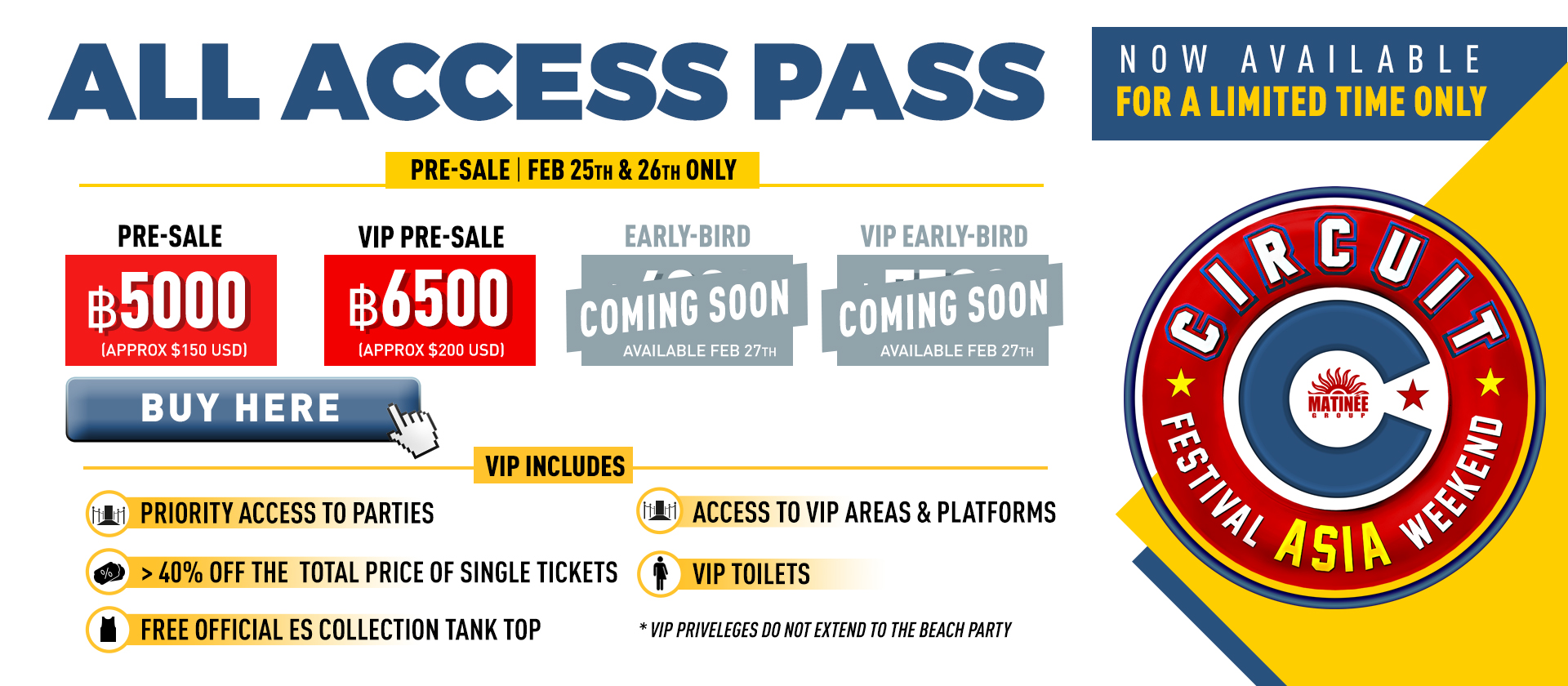 INDIVIDUAL PARTY TICKETS WILL BE AVAILABLE APR 17th, 2023

Complimentary Official Circuit Festival Asia 2023 tank-top by ES Collection with every VIP All Access Pass purchase (Retail price 1,000 THB)
WRISTBAND PICKUP INSTRUCTIONS
You will need to pre-register your tickets before you can pick up your wristbands (Ticket pre-registration opens June 1st, 2023). You can update the name in the pre-registration as your name must match the ticket name when you pick up the wristbands. It will only take 30 seconds.
Use the QR code received after pre-registering your tickets to redeem the party wristbands. They can be redeemed at the Welcome Point or at the venue's box office.
* Either print your order confirmation or show it on your mobile device for redemption. You can pick up wristbands for a friend(s) provided you have their order confirmation and a photo of their ID.
WELCOME POINT & BOX OFFICE HOURS
Welcome Point:
Location: The Zign Hotel (lobby floor)
Operating Hours: Friday, June 23rd, 2023 at 3pm – 7pm
Wristbands not picked up at Welcome Point during operating hours will be available at the venue's Box Office.
Box Office Hours:
Fri June 23rd | 9pm – 12am at The Zign Ballroom
Sat June 24th (day) | 3pm – 6pm at Water Park
Sat June 24th (night) | 9pm – 12am at The Zign Ballroom
Sun June 25th | 4pm – 7pm at the Zign Private Beach
REGARDING YOUR CIRCUIT FESTIVAL ASIA 2020 TICKETS
For those who are still holding on to the tickets from 2020, we can't thank you enough for your patience. If you have not redeemed your tickets for the event in 2022, you tickets are still valid for the event in 2023.
As we have changed the ticketing platform from Eventpop to Ticketmelon, we will be sending you new tickets that you could use to redeem for the 2023 event by February 20th, 2023.
WRISTBAND TERMS & CONDITIONS
Your wristband is personal and non-transferable. For All Access wristband, you must wear it for all days of the Festival.
Any lost wristbands must be repurchased for admission. Damaged or cut-off wristbands will need to be replaced for 500 Baht fee (must bring your old wristband to exchange).
The organizer reserves the right to invalidate the wristbands and prohibit entry to anyone who do not follow the festival's rules & regulations or behaves inappropriately at the party. No refund will be given.